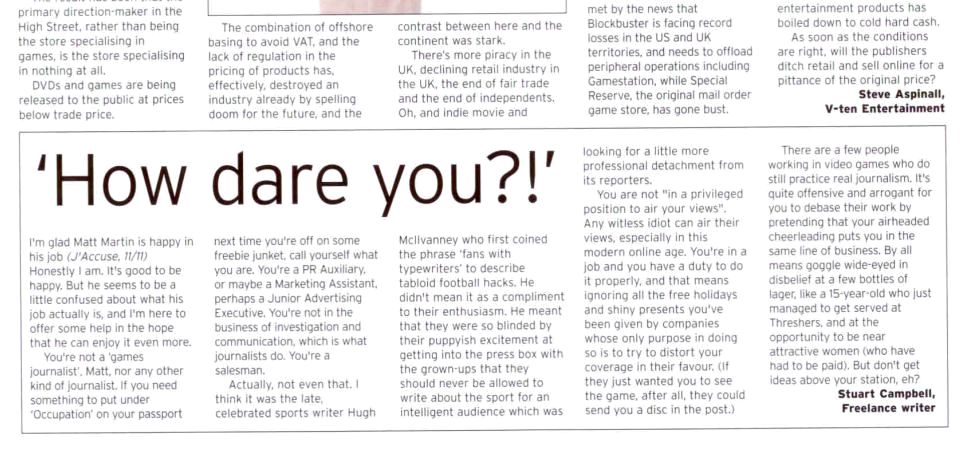 After our response to Matt Martin's hopelessly misjudged article harping on about how "lucky" games journalists are was printed in MCV last week, it was brought to the attention of the nation's official top games journalist. He was just as outraged as we were by the article, and his excellent response has been printed in this week's issue.

The god of games journalism shared our sentiments when it came to what journalists are meant to do, namely report the truth without being swayed by PR perks/bribery. The response is also somehow even more venomous than our own. Here are some extracts:


"You're not a "games journalist", Matt, nor any other kind of journalist. If you need something to put under "Occupation" on your passport next time you're off on some freebie junket, call yourself what you are. You're a PR Auxiliary, or maybe a Marketing Assistant, perhaps a Junior Advertising Executive. You're not in the business of investigation and communication, which is what journalists do. You're a salesman. Actually, not even that.

You're in a job and you have a duty to do it properly, and that means ignoring all the free holidays and shiny presents you've been given by companies whose only purpose in doing so is to try to distort your coverage in their favour. (If they just wanted you to see the game, after all, they could send you a disc in the post.)

There are a few people working in video games who do still practice real journalism. It's quite offensive and arrogant for you to debase their work by pretending your airheaded cheerleading puts you in the same line of business… don't get ideas above your station, eh?"



http://worldofstuart.excellentcontent.com/mcvr.jpg
for the whole thing.

That Stuart can lay down his views in such an entertaining and overtly insulting way is exactly why this site considers him to be the nation's number one journo, and he wasn't even hiding behind anonymity like we do (although he probably got his £25). We feel obliged to acknowledge MCV for having the guts to print two scathing rebukes of Matt Martin two issues running, though, and would like to see what Mr. Martin has to say.

Stuart – we're returning the compliment with interest when we say that was superb. The RAM Raider salutes you.